How to layer necklaces...and not lose your mind.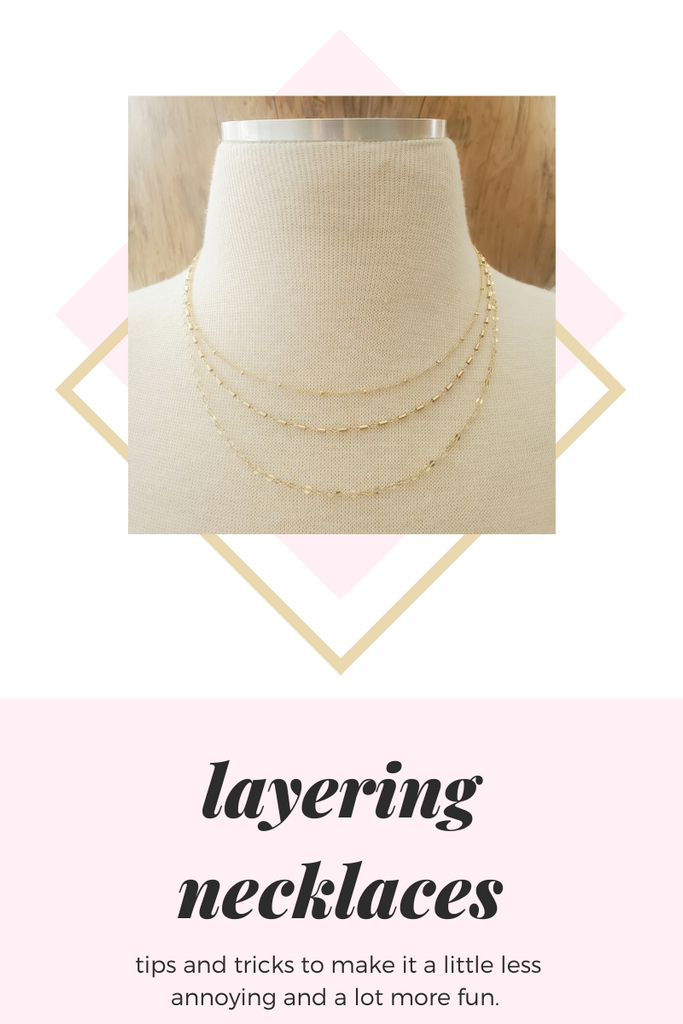 We've all been there. You see a beautiful gal in some Instagram ad with the perfect combination of layered, delicate goodness around her neck and feel inspired AF. So you pick out your favorite 2 or 3 necklaces and throw them on, feeling creative, proud, and super pretty. Until you feel like you're being choked to death because your exquisite ensemble has become a hot, tangled mess. While layered necklace perfection is still of on the horizon somewhere, we have found a few ways to make it a whole lot easier. 
First off, through much trial and error, we have found that necklaces with a "fixed" focal point (the charm doesn't move freely along the chain) tend to layer more easily. My guess is that the less movement there is overall among the necklaces, the less opportunity to take the train to tangle town. 
Second, it seems as though layering necklaces that have different styles and weights of chain results in less tangling. 
Third, and maybe this goes without saying, but you want to use necklaces that are different lengths, or at least clasped to result in them being different lengths. 
Finally, investing in a little multi strand clasp thingy (we now sell one here) is super helpful. It takes some getting used to, and keeping the necklaces organized while you hook them up can be tedious, but IT WORKS LIKE A CHARM. I've been wearing mine to make sure it was worth it, and trust me, it is. Even when working out, I can still be that super hot layered necklace lady, and so can you. 
Be well. 
Jamison
jamison olson